Regenerative Desiccant Dryers
Heatless Regenerative Desiccant Dryers
Since 1948, sensitive applications requiring clean, dry, compressed air have turned to Hankison for the optimal solution. Utilizing twin towers filled with premium grade activated alumina, Hankison Heatless regenerative desiccant dryers are available with 3 application specific control systems to meet the needs of industry with economy and performance.
Hankison HHS, HHL or HHE Series heatless desiccant dryers provide consistent outlet pressure dew points to -100°F (73°C).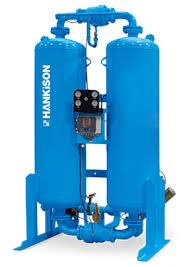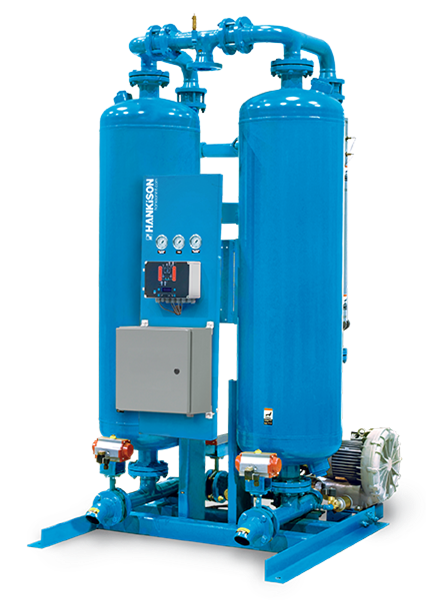 Heated Blower Purge Desiccant Dryers
HBP Series blower purge regenerative dryers are economical & reliable.
HBP Series dryers improve air system efficiency by the use of a dedicated axial blower, instead of a percentage of dehydrated purge air, to regenerate the off-line desiccant tower. ISO 8573.1 Class 2 (-40°F/-40°C) dew point performance is guaranteed.

HBP Series compressed air dryers will produce the design dew point while operating continuously at maximum rated flow (100% duty cycle) at CAGI ADF 200 inlet standards of 100°F inlet temperature and 100% relative humidity at 100 psig.
Contact the Compressors For Manufacturing team for any inquiries