Stop wasting energy and begin controlling your compressed air system
An air compressor controller should put you in total control, be insightful, and most importantly, be easy to use and navigate. Compressor controllers also protect your investment and enhance your efficiency while decreasing the operating costs of your equipment through advanced insights.
Improve Efficiency With The Optimizer 4.0
80% of your costs come from the energy your compressor consumes outside of maintenance and capital cost. Digital controls like the Elektronikon MKV can assist in more closely matching energy to compressed air demands. The Elektronikon touch screen controller works as the "brain" of the compressor by gathering data from sensors inside the compressor, processing it, and delivering you an overview. With Elektronikon fifth-generation controllers you can easily control all of your air compressors together and even easily upgrade other brands or older machines. See our case study on upgrading your existing compressors and utilizing Atlas Copco sequencers and controllers.
Reduce Pressure Band
Optimizer 4.0, our newest central controller, links all compressors and dryers and lowers your overall pressure band. Stable pressure contributes to production quality.
Monitor Your Air Demand
Optimizer 4.0 will select the best machine combination to deliver the required air output in the most efficient way.
Save Energy
Benefit from efficient compressor room control and optimize your energy consumption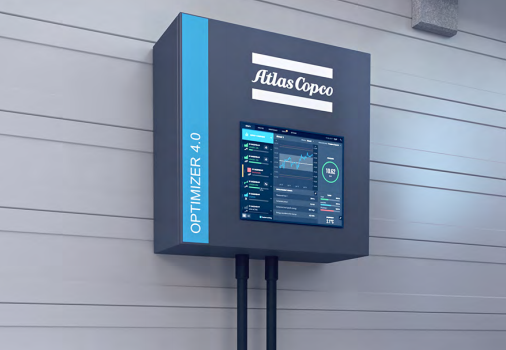 Remote Monitoring With SmartLINK
Most of our new compressors have Atlas Copco SmartLINK. The SmartLINK system allows for all service, warning, and alert level alarms to be delivered by text or email via the SmartLINK web portal. With inexpensive cloud-based software, energy management and alerts can also be monitored and recorded alerting clients to issues long before breakdowns occur. Our team of service technicians can be dispatched to service equipment in the early stages of imminent failure.
Contact the Compressors For Manufacturing team for any inquiries